Jurassic World: Dominion Dominates Fandom Wikis - The Loop
Play Sound
The town center[1] is the Kingdom main structure, with which the Monarch founds and manages most of the Kingdom. Upon the start of a new Kingdom, the Monarch comes across two vagrants around an unlit campfire and a few building outlines. Once the price to light the campfire at the center is paid, the Kingdom is founded and base construction can begin.
After the campfire is ignited, the outlined buildings are automatically upgraded into tool vendors. Nearing the end of the first night, the campfire can be upgraded to the next tier, a full camp with tents. There are a total of six tiers in Classic and New Lands; and seven in Two Crowns. Most upgrades bring bonuses for the Kingdom.
In New Lands and Two Crowns the Ghost guides the Monarch through these starting tasks. The pictures show the medieval variants of the buildings. Each setting has its own architectural style.
Tiers
[
]
Town square
[
]
The town square (or market square, or civic center) is the entire area between the two innermost walls, or wall mounds (if the walls have not been built, or if they have been destroyed).[2] It contains:
Plaza
[
]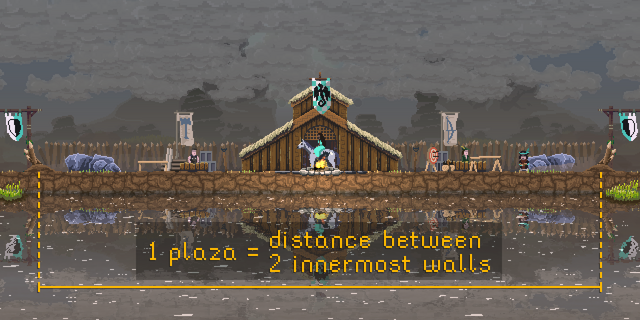 On Kingdom Wiki, the length of one town square is called plaza, and is used as a unit to measure and express large horizontal in game distances, like the range of a ballista shot.[3]
Tax chest
[
]
At the beginning of every day, the Monarch can collect the taxes from the chest. Passing by the box, galloping or walking, triggers its opening and the coins drop on the ground. The chest disappears just after this, to repeat the same sequence the next day.
The tax chest is unlocked when the Monarch lights the campfire. The amount of gold gained from the chest increases as the camp is upgraded up to tier four, and then goes down if it's upgraded further, reaching only one coin at the maximum level. The table below highlights these values:
| | | | | | | | |
| --- | --- | --- | --- | --- | --- | --- | --- |
| Tier | 0 | 1 | 2 | 3 | 4 | 5 | 6 |
| # of | 0 | 5 | 6 | 6 | 7 | 4 | 1 |
Tips
[
]

Kingdom: Classic – The stone fortifications (tier 5), while giving you many upgrades for free, also drastically reduces the daily income of coins. The longer you can go with the town hall (tier 4), the farther ahead you'll be monetarily.

Kingdom: New Lands &


Two Crowns – It is a good idea to not build or upgrade the innermost walls or towers and just get (if available) the stone and iron technologies first; and then upgrade the town center.
History
[
]
See also
References
[
]