Type
Video game industry
Founded
3 February 2015
Founders
Gordon Van Dyke
Jonas Antonsson
Headquarters
Stockholm, Sweden
Website
rawfury.com
Raw Fury AB is the video game publisher responsible for the Kingdom series.
Founded in February 2015 by Gordon Van Dyke and Jonas Antonsson, the company specialises in the publication of indie games.
(Un)Publisher
[
]
Raw Fury has since then been described as an UnPublisher.
"
An UnPublisher because of how badly the publishing term – or what it traditionally stands for – fits with what we're doing.

So Raw Fury is UnPublishing – in the sense of trying to dismantle how publishing traditionally works, in favor of actually being there for the developers. They run the show. They are front and center. We're a support unit. We are fans and cheerleaders.

—Raw Fury [1]
"
And would say more about it in 2019:
| | | |
| --- | --- | --- |
| " | Sometimes you need to undo a thing before you can redo it. That's how we think when it comes to publishing games, hence that "Un" stuff at the beginning.—Raw Fury [2] | " |
Games published
[
]
"
We publish games (...) by putting more emphasis on "games" and less on "industry", by building long-term partnerships with developers where both sides feel they are equals and in this together.

All of us believe that games matter. They are the marriage of art and craft. They can elevate, change, entertain, surprise, and move people. They're the modern vessels for our stories – our imagination. They facilitate communication and communion.—Raw Fury [2]

"
Articles (Un)Published
[
]
On November 2020 their web site was revamped, and all articles about the Kingdom series were gone along with the old design. The majority of them can still be found on the Kingdom site, because they used to be replicated there. But some of them—mainly those created before the release of Kingdom Two Crowns—were UNpublished from the site. Kingdom Wiki has archived some of them in order to make referencing on the wiki easier.
* Publised after the site revamp, and still accessible on the site.
They don't do
[
]
Raw Fury don't really do: [3]
virtual reality / augmented reality
MMORPGs (or really anything that's multiplayer only)
blockchain (or similar buzzword things)
free-to-play
mobile first
asset flips, or
match 3 games.
External links
[
]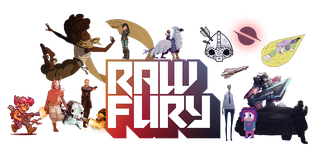 References
[
]