Mounts are animals the Monarchs ride as they travel across the land.
Mount mechanics
[
]
All mounts can stand still, walk or gallop; and some have a special ability.
Speed
[
]
Different mounts can have different speeds. Additionally, one mount can have different speeds on different terrains, such as the open grasslands vs the forest. For example, the unicorn is slower in the forest than on open land, while the stag and bear are faster in the forest. And all mounts are faster galloping, but one mount compared to other can have a better performance walking and a worse performance galloping, and vice-versa.[1]
Stamina
[
]
Mounts also differ on their running duration which is limited by their stamina. Stamina levels are different for each mount. As a mount's stamina drops, the animal starts to breathe heavily, and upon total exhaustion it's limited to walking while it regains its stamina. An exhausted mount forced to gallop, may end up rearing. Mounts can regain the consumed stamina quickly and gain an extra stamina pool by stopping to graze.
Special ability
[
]
Most mounts in New Lands and in Two Crowns have a special ability. Some abilities will activate without an action from the player and depending on the situation, like the stag and the unicorn's abilities.
Others like the warhorse and the bear will use their special abilities when sprinting.

Kingdom Two Crowns – A few others will require a specific trigger to activate their special abilities. These triggers or commands are shown on the table.
Trigger for the mounts' special ability
PC

1st P

L.Shift while standing still
2nd Player
G
Mobile
Swipe up
N. Switch
ZL or ZR
Xbox
Right trigger
PS4
L2 or R2
Types of special abilities
[
]
There are three types of special abilities:
Economic abilities generate income for the Kingdom.
 E.g.: the stag attracting deer.
Defensive abilities reduce the damage taken or delay an attack from the Greed.
 E.g.: the warhorse buff protection.
Offensive abilities apply direct damage to the Greed.
 E.g.: the lizard spitting fire.
Note that an ability may be found in more than one group; for example, the charge attack of the bear, that may be used to attack greedlings and to hunt wildlife.
Mount choice
[
]
Monarchs start their journey riding a horse with average speed and stamina, and no special ability. This horse can be replaced by a variety of mounts—each one with its unique preset advantages and disadvantages—as soon as they are found and/or unlocked.
The Monarch cannot dismount at any point except when changing to a new mount.
Swapping mounts in all games will leave the previous one wandering around the swap area, never disappearing or wandering too far away.
In Classic

[

]

Kingdom: Classic – The Monarch may choose between two horses: the standard horse and the black horse. Swapping mounts cost three coins.
In New Lands

[

]

Kingdom: New Lands – There are a total of ten usable mounts (including the two holiday event mounts and counting each horse type separately). New mounts can be unlocked by finding signposts on the various islands, and mounts can be swapped for three coins at any of their spawn points. These spawn points can be found throughout any of the islands, although the Monarch is more likely to find a more varied selection of mounts on bigger islands. Swapping mounts always cost three coins.
In Two Crowns

[

]

Kingdom Two Crowns – There are two base horses with the same statistics, and the monarchs may unlock a total of nine other mounts (including the two holiday event mounts). They have to be unlocked with gems and switched to with coins. A few of the mounts have a special attack.
History
[
]
The following is a list of the changes related to the ensemble of the mounts. For the changes related to each mount, see their specific article.
Date
Game
Platf

orm

Version
Change
Dec 11, 2018

All

1.0.0
Different ways of recharging the stamina (besides the classical grazing on grass) were introduced.
Aug 9, 2016

All

1.0.0
A bunch of new mounts were introduced, with 3 types of special abilities: economic, defensive, and offensive abilities.
Apr 11, 2016

All

1.2.0
The first unlockable mount was introduced: the black horse (faster and more resistant).
Oct 21, 2015

All

1.0.0
Only one horse existed and the Monarch could not change it.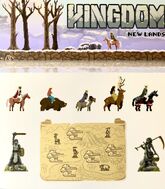 Trivia
A goat mount was planned in addition to all the others in Kingdom: New Lands but eventually didn't make it to the final release. The goat had no special ability. On Twitter Noio wrote that : "one of the ideas was 'worse in every way but cute'. Like a 'hard mode' for the game."[2]
See also
References
[
]
Polls
[
]