The lizard is a large and slow mount which is able to spit fire. It has very low stamina but a higher than normal walk speed.
It is always on the fourth island, it costs three gems to unlock and ten coins to ride it. Its habitat can be recognized by a fountain surrounded with rock formations bearing Aztec symbols and drawings. Under the fountain lies an egg which hatches into the lizard once the gems are paid.
Instead of grazing, it sunbathes on plains during the day to recharge stamina. It does not work in forests, inside the cave or anytime at night. It still works during the winter.
Trigger for the special ability

| | |
| --- | --- |
| PC | Left Shift while standing still |
| PC 2nd player | G |
| Mobile | Swipe up |
| N. Switch | ZL or ZR |
| Xbox | Right trigger |
| PS4 | L2 or R2 |
Its special ability is to spit fire onto the ground in front of it (covering an area spanning the same length of the lizard). This lasts for five seconds, burning any greedling which steps on it. Greedlings which make contact with burning greedlings (not in its dying animation) will catch on fire as well, making it extremely powerful for base defense where greedlings are clumped up behind walls. Greedlings which are on fire take damage after every second. One tick of damage is enough to incinerate a greedling. Masked greedlings take around three to five ticks of damage. Breeders and crown stealers take significant damage from the fire.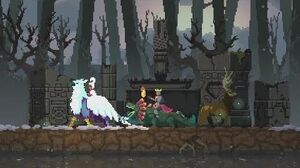 To activate ability, double tap a directional key or hold Shift then tap a directional key. On Xbox/PS4 hold a trigger/sprint button. Once the ability is activated, the lizard will be immobile for a second to charge up before performing the ability (this may lead to dangerous situations if being chased). The direction of the ability can be changed an unlimited amount of times during its charge up animation (be careful not to change direction before ability is resolved). The ability can be used up to two times in quick succession (before running out of the required stamina). If the ability is activated twice without letting the first activation resolve, the result will be the ability releasing one second after the latter activation, and the two activations merge into one (this proves to be a waste as both duration of the fire as well as a greedling's burning instance do not double, but would require twice the amount of stamina).
To sprint without activating the ability, hold a directional key first, then hold shift. This is important due to the fact that the ability uses up stamina, and immobilizes you for a second.
The fire does not affect wildlife (rabbits or deer) or structures (walls, portals or greed nests). It also does not interact with snow (during winter). The fire will not harm subjects, but will instead immobilize any caught in the fire for its duration. Subjects will also be immobilized before walking into the fire. This may turn out to be counter productive when attempting to save subjects being chased by greedlings.
The fire does not affect floaters even when swooping down to pick up subjects.
Date
Platform
Version
Change
Nov 3, 2020

All

1.1.5
FIXED: The lizard has acclimatized and is now able to sunbathe in Dead Lands.
Apr 28, 2020

All

1.1.0
Introduced in Dead Lands. BUG: The Lizard does not sunbathe in Dead Lands, thus not fully recharging its stamina.[1]
Dec 19, 2018
1.0.1
Reduced the cost to ride from 14 to 10 coins.

Detail
Dec 11, 2018

All

1.0.0
Introduced.
Community content is available under
CC-BY-SA
unless otherwise noted.