For the islands in Kingdom: New Lands, see: Islands/New Lands.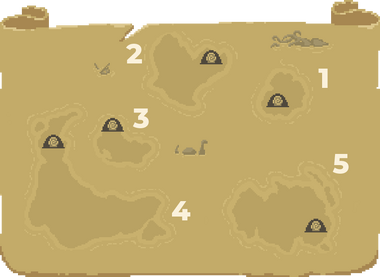 Islands in the Kingdom: Two Crowns are pieces of land surrounded by a river, a sea and a mountain, where the Monarch establishes permanent bases to survive the Greed, generate an economy and destroy the cave in the mountain. The Monarch can move between these islands with the boat and will occasionally have to revisit the same islands a couple of times in order to reach his goal.
In order not to wreck the ship each time, it's a good idea, to clear the dock portal and build a lighthouse first, before leaving an island.
While the Monarch is away from an island, the buildings there start to decay. The longer you are away, the more gets destroyed or downgraded.
There are five islands in total, and only the first one is available upon starting the game. Repairing the boat and setting sail unlocks the next island in sequence (see map). Moving to a new island does not reset the overall day count nor the seasons cycle, but each island has its own local day count, which is displayed, when the bell rings in the morning.
All islands have similar geography, but each successive island gets progressively larger and harder, affecting the number of towers, walls and farms that can exist in the Kingdom. On every island (except the 1st one) the Monarch can encounter gems to unlock new mounts, statues and hermits that can help them on their journey.
First Island
Edit
The first island is the smallest and is generally easy to secure. There is always a vagrant camp and a merchant close to the town on the right, giving you an easy way to get money and recruits.
Second Island
Edit
Third Island
Edit
Fourth Island
Edit
Fifth Island
Edit
At least one of the two vagrant camps is located very far from the central castle, generally behind some portals. The greed waves tend to be harder than on the other islands.
Also, there seems to be a blood moon sceduled on the first night. (Perhaps if you enter after a certain date? Confimation needed!)
More Islands
Edit
Related Pages
Edit
Community content is available under
CC-BY-SA
unless otherwise noted.