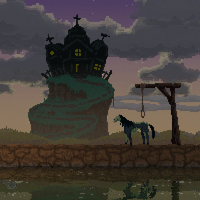 The Halloween event in Kingdom is the special period of two days, October 30 and 31, during which spooky things with some of the real life Halloween symbolism inspire a trick or treat ambience—the main feature being an exclusive cursed mount.
"

Kingdom: New Lands gets Halloween update scarier than a Blood Moon

We like getting into the spirit of things, so we came up with a fun little update for Halloween that will only be available until November 1st!

If it has been a little bit since you last visited Kingdom: New Lands, now is a good time! Just start a new game to take advantage of the update. Even if you don't finish your new game before November 1st, you can keep the creepy horse after the update expires until you die. And, since it's Kingdom and all, you will certainly die.

Stay safe out there during the holiday weekend, everyone! And remember, the correct ratio of tricks vs. treats is 70/30, minimum.—Raw Fury. October 28, 2016 [1]

"
The undead horse[2] is a special mount only available during the Halloween event. Equipped with infinite stamina, it is a highly desirable steed for any ruler who ain't afraid of no ghosts. However, this massive advantage comes at a cost: the Monarch riding the undead horse is transformed into a semi-transparent ghost, unable to switch to other mounts until the Crown is stolen.
The undead horse doesn't have to be unlocked and it may appear in any island, except the first, always in front of a haunted house, standing next to a noose. It's possible to encounter multiple undead horses during the event on different islands.
While the horse is only available during a limited time period, it can be kept indefinitely after the event ends, as long as Monarch doesn't lose the Crown.

Other minor visual changes may be found during this event:
Greedlings wearing pumpkin masks
Lights that would normally be torches looking like jack-o'-lanterns
The Moon with a grimace.
The value for local date and time is the trigger for starting and ending the event. Once it's October 30 or 31, players wanting to enjoy the event will need to start a new reign.[3]
Outside this period, it's possible to trigger the Halloween event by changing time and date of local operating system. As this can cause other local programs to behave oddly, only do this if you understand what you're doing. And remember to correct the values after you're done with playing.
Date
Game
Platf

orm

Version
Change
Oct 28, 2016
1.0.6
Added the undead horse.
Oct 25, 2015
1.0.1
Introduced (special greedling mask).
↑ On Halloween update notes on Steam Community.
↑

Also known as cursed horse, creepy horse, spooky horse, nightmare horse, zombie horse, skeleton horse or the bonemare.
Community content is available under
CC-BY-SA
unless otherwise noted.