The Kingdom games are notable for their minimalist gameplay that has a handful of controls. Starting a brand new game the monarch will be guided by the ghost through a simple tutorial in which the basic controls will be taught. This tutorial is adapted to each platform and its controls.
Game controls
Edit
The PC versions of classic
Kingdom: Classic and the PC, mobile and Nintendo Switch versions of newlands
Kingdom: New Lands have the following control scheme:
Actions
Controls
PC
Mobile
Nintendo Switch
Move left
A or ←
Drag gamepad left
Directional left
Move right
D or →
Drag gamepad right
Directional right
Sprint
Double tap move button or hold Shift while moving
Drag gamepad all the way to the right or the left
L or R
Drop coin
S or ↓
Tap
A
Pay coins
Hold S or ↓
(when the paying circles appear)
Drag down
(when the paying circles appear)
Hold A
(when the paying circles appear)
Some mobile versions feature touch controls with a virtual game pad. Other devices will accept physical extra controllers as seen in this case.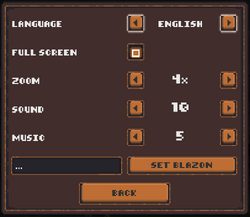 The game options are self-explanatory, as seen on the newlands
New Lands PC version options panel in the image, with the exception of Blazon setting, explained here.
The player is able to choose zoom, sound levels, and music levels. Language options are English, Finnish, French, German, Icelandic, Italian, Japanese, Korean, Norwegian, Polish, Portuguese, Russian, Spanish, Swedish, Chinese, and Danish.