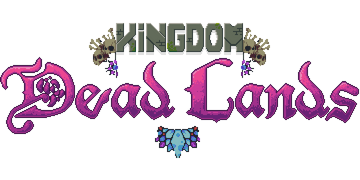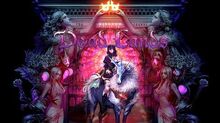 Dead Lands is the third optional campaign in Kingdom Two Crowns inspired by the gothic horror action-RPG game called Bloodstained: Ritual of the Night,[2] which was developed by Koji Igarahi's ArtPlay and published by 505 Games.
| | | |
| --- | --- | --- |
| " | Dead Lands brings Kingdom to a dark gothic world. But do not fear, you'll be able to play as the heroine Miriam and three other characters from Bloodstained: Ritual of the Night, each with a powerful trait.—Raw Fury [3] | " |
Since launch, monarchs have been building their Kingdoms in the classic medieval and feudal Japan inspired settings. Now things are about to get darker and creepier with Dead Lands, a completely new setting that will change how kingdoms are ruled. Taking place in a gloomy gothic world with eerie mounts, building a kingdom has never been more frightening than this.
Switching playable characters
[
edit
|
edit source
]
For the first time in Kingdom, players will not only be able to change which mount they roam around on while they explore and expand their kingdom but they'll also be able to switch between four different Monarchs, each with a unique powerful trait. These four new monarchs in Dead Lands all come from Bloodstained.
New rulers will start out as the shardbinder Miriam, and during their journey unlock the demon hunter Zangetsu, the summoner Gebel, and the alchemist Alfred.
New mounts: gamigin, beetle and golem (shown above)
Unavailable mounts: griffin, draft horse, warhorse
Previously existing mounts recolors
Chickens replace rabbits in plains
Coins display skulls
Moon phases are more apparent
Island selecting map changed, displaying more details than before, and is sliding from island to island instead of one map where you select
Doggo is now more wolf-like
The starter horse is zombified
Enlisted (by a knight) archers now have bandanas and crossbows
Bug where knights and squires would appear from the wrong DLC/mode fixed
Somehow archers' aim worsened
AI improved (especially suicide builders walking outside at night)
14 new songs specific for the Dead Lands campaign.
Dead Lands was introduced with update 1.1.2 as a free DLC on April 28 on all platforms the game is available for. The long-awaited mobile version was launch simultaneously and includes special customized co-op modes, tailored touch controls, and support for wireless gamepad controllers (on OS versions with native support).
Community content is available under
CC-BY-SA
unless otherwise noted.