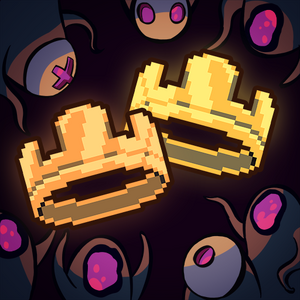 Kingdom Two Crowns introduced the possibility to play with a second monarch. Playing in coop make a lot of things easier, like having two different mounts, doubling the coins and gems carrying capacity, and being able to manage both sides of the kingdom simultaneously.
Both monarchs need to lose their crowns in order to lose the game. If one monarch loses the crown, the other can craft him/her a new one for 8 coins. A crownless monarch isn't able to interact with anything and the Greed ignores them.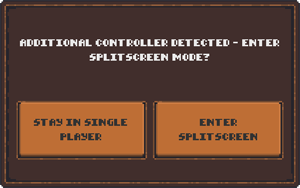 The player one must have finished the tutorial before starting a local or online cooperative game.
When a 2nd player is detected, a pop-up gives the options:
stay in single player or
enter splitscreen.
There are different ways to trigger this splitscreen pop-up.
Two on keyboard
To start a local co-op with the keyboard, press G, J or ~ (or the key between ESC and Tab, if in a non US keyboard). See the second player controls.
Keyboard and controller
While playing with the keyboard, plug the controller (or press the Start button) for it to be detected.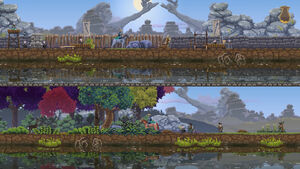 Two controllers
Start the game with one controller and plug/turn on the second (or press the Start button) for it to be detected.
On Switch, in order to get it to recognize each joycon as a different controller follow these steps:
Go to the Switch HOME menu
Press the button in the lower tab that has a Joycon icon
Select "Change Controller/Grip Order"
If using Joycons, activate them one at a time (follow the display for instructions)
If you're not using Joycons, make sure that you have two separate controllers paired (player 1 and 2)
Launch Kingdom Two Crowns, and enter a campaign
While in-game, have player 2 press any button on his controller.

For Steam users only.
Press Esc to open the menu
Click "Multiplayer"
Check "Allow Online Joining" and/or "Open Friend"
Invite a friend through the Steam chat.
Finding a partner to play with
There is no random matchmaking for online co-op. Players may find partners on Steam or on Discord.
Cross platform
There is no cross platform support.
Players using Steam though can play online together no matter if they're on Windows, Mac, or Linux.
Other platforms
Online co-op is not available for Nintendo Switch, Apple, and Android mobile.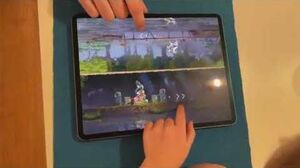 | | | |
| --- | --- | --- |
| " | You'll be able to play regular stacked coop when sitting next to your fellow monarch, but in case you sit across from each other, you'll be able to play a custom mobile and tablet sky-to-sky feature that we call Tabletop Coop! This is just one of many cool new things coming soon to Kingdom Two Crowns on iOS and Android.—Raw Fury [1] | " |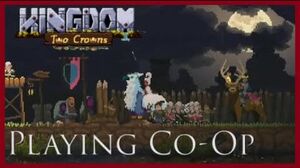 The first and most obvious benefit to co-op is that twice as much territory can be explored in a day if one person goes left and the other heads to the right. Coinage can also be shared, so if one player is short on building a guard tower or wall, it's easy to throw some change their way. Another big bonus is that if one player has their crown stolen the game doesn't end. The crownless player can't build nor craft any equipment, however they can still gather gold coins or gems and hand them off to the remaining ruler. Another possible benefit is if they have a mount or monarch with an ability, as they can still use it, which makes crownless kings very effective against greed hordes, and potentially a fighter, if using the right combinations, as they are completely ignored by enemies, and can even take down portals on their own, although very slowly, if mounting a Gamigin, unless they have any coins in their bag, as otherwise they will lose coins when attacked be greeds. It is advised that the remaining player has to be extra careful to not lose their crown, as while it makes the hordes easier to handle, it also means the last player has to be protected very carefully. If necessary, a new crown may be crafted, and the other player may fully rejoin the game.
| | | |
| --- | --- | --- |
| " | Since we're two players, if the Greed take my crown, for example, then you could come and help me by crafting a new crown for me, but while I'm crownless I can't really do anything; I can just collect money and give it to you, basically. So we need to stick together in that regard.—Liam O'Neill in Gamereactor's interview (3′15″). 16 May 2018. | " |
Community content is available under
CC-BY-SA
unless otherwise noted.