Challenge Islands is an alternative experience to the campaigns (Europe, Shogun and Dead Lands). There are three types of challenge islands: Dire, Plague and Skull Island. Each one has their own custom rules where a single Monarch, in only one reign, will to try to accomplish their respective goals and reach the Bronze, Silver and Gold Crown ranks. When reaching a goal, the Ghost will appear to give the Monarch the specific type of crown. Once a player has unlocked a type of crown, it can be seen on this island's menu, even if the game is restarted.
Except for Dire Island, being actually a sequence of themed islands of the same type, there is no boat to escape challenge islands.
| | | |
| --- | --- | --- |
| " | Kingdom Two Crowns: Challenge Islands represents the greatest challenge ever seen for hardened veteran monarchs. Can you survive long enough to claim the Gold Crown?—Raw Fury [1] [2] | " |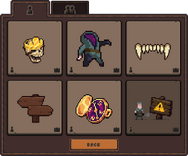 To access a challenge island:
1.
Press Esc to open the menu
2.
Click "Challenge Islands"
3.
Click:

The crowned skull for the Skull island
The greed-citizen for the Plague island
The wolf teeth for the Dire island.
The button with a worker and a worn sign means that new challenges are coming (no scheduled dates revealed though).
Challenge islands is an alternative game mode inspired in the legacy games Classic and New Lands with a tougher roguelike gameplay, with the following characteristics:
no Ghost tutorial
no gems
no unlockables (statues, hermits, alternative mounts)
no end-game goal
goal is to reach the Crown milestones which have different rules on each island type
one reign, no heirs, a single attempt: losing the Crown means losing the challenge.
Challenge Islands were announced to be a solo player experience long before the game release:
| | | |
| --- | --- | --- |
| " | Even though we've moved away from rogue-like for the bigger SP experience we'll still have new single land experiences that are roguelike and separate from the campaign mode. These will have special rules as well i.e. no statues, classic mode, etc...—Gordon Van Dyke on Twitter, 20 April 2018. | " |
As there was a relevant demand from the community for a cooperative mode since the challenges were introduced, developers have answered:
| | | |
| --- | --- | --- |
| " | Co-op challenges would be awesome to have and is definitely something that we are talking about in the team. Turns out that creating challenges that are well balanced not only for single player but also in co-op is quite the challenge itself! So we decided to go for single player challenges first to test the waters. Hopefully there will be co-op challenges in the future, but right now the team is focused on stabilizing the core game and squashing a couple of pesky bugs. We're a pretty small gang after all, but please know that we are working hard at giving Kingdom all our love!—Angelica on Steam, 31 October 2019. | " |
| Date | Platform | Version | Change |
| --- | --- | --- | --- |
| 3 Nov, 2020 | All | 1.1.5 | Cursed Crown milestone was introduced. |
| 12 Sep, 2019 | | 1.0.5.1 | Introduced to this platform. |
| 29 Aug, 2019 |    | 1.0.4 | Introduced for free as the first major game expansion. |
Community content is available under
CC-BY-SA
unless otherwise noted.